Around the Block Press
Bonnie Raitt. Betty White. Nelson Mandela. We all admire people who have been around the block, who have lived a little and let life teach them something. They have the kind of knowledge and wisdom that we're looking for in our authors.
Some of our authors are wildly creative and exciting. Some are wryly funny. Some have professional expertise and some have intuition and insight. But whatever other qualities they have, they are all grounded in the reality of love, friendship, work and all those things that make up life, good and bad.
Please take a look at our books. Two of them are available for sale now. The others will be soon.
And thanks for your patience while we construct both this website and Around the Block Press
eBook and Print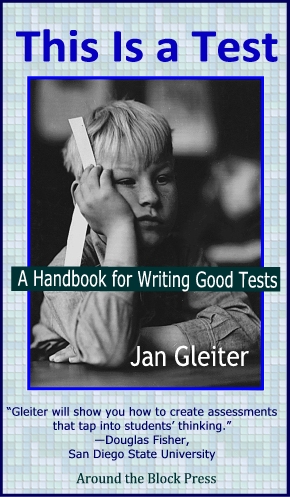 This Is a Test
A Handbook for Writing Good Tests
by Jan Gleiter
Our students are drastically overtested. most of us know that and are seriously concerned about it. But how many of us know that they are also subjected to very bad tests? A lot of teachers know it. A lot of parents have wondered. Now, one of the most respected assessment editors in the business has done something about it.
Jan Gleiter has written a simple, clear handbook on how to write a good test, Aimed at teachers, trainers in all fields, and educational writers and publishers, it's also a must-read for every parent who has ever looked at a student's disappointing test score and wondered whether it was really valid.
This Is a Test is less than 100 pages, but it could very well make a big change in education in our country. As Walter MacGinitie, co-creator of the respected Gates MacGinitie Reading Test, says "This little book has the potential to bring about a genuine improvement in testing."